It's a weird time to be a Bears fan. The season begins tonight, and unlike in years past, the Bears aren't already mathematically eliminated from the playoffs. In fact, myself and many others think they could be quite good.
Despite what former Bears head coach and current ESPN dipshit John Fox thinks, the Bears did not have the worst offseason in the NFL. They brought back nearly every starter from last year's championship team, added some exciting new skill players on offense, and fired the Today Show talkin' corpse of Cody Parkey directly into the sun.
Yes, the loss of Vic Fangio will hurt, but Pagano is a great defensive coordinator, and the players are way more important than the scheme anyways. Plus, any regression on defense should be picked up by an improving offense that's now fully enrolled in Nagy 202.
I'm expecting a big year from Mitchell and the boys. Think more games like Tampa Bay (354 yards, 6 TDs) and less like Los Angeles (110 yards, 1 TD, 3 INTs). And as long as Trubisky doesn't lose any more games due to a Harrison Smith cheap shot, Nagy's offense should be pretty good.
With the football gods bringing the slog of the NFL preseason to a merciful end, here's the 5 things I'm most excited about for the upcoming season.
1. Tarik Cohen Making Defenders Look Stupid
Tarik Cohen is like Devin Hester if Devin Hester could actually play offense. When he touches the ball, anything is possible.
He's quick, shifty and regularly runs circles around dudes three times his size.
I'm on the edge of my seat every time he has the ball in his hands. Partially because he could break that play for a touchdown, and partially because I'm terrified for him. He's just so little. I now understand why my mom hated watching me play football.
Also, I could never do this:
2. Khalil Mack Doing Khalil Mack Things
Without any mini-camp, preseason or real practice time, Khalil Mack came out and played maybe the greatest first half of a football game any defender has ever played in the first game against the Packers last year.
He beats triple teams with ease. He regularly throws 320 pound linemen down with one hand. He is a monster and will probably win 3 or 4 games this year single handedly.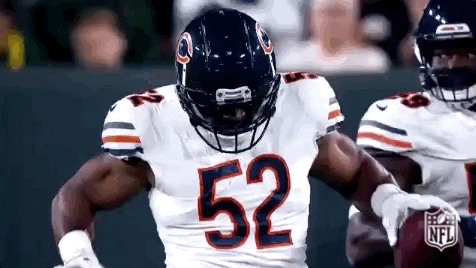 3. Defensive TD Celebrations
The Bears' defense is great at 3 things: preventing touchdowns, scoring touchdowns and celebrating touchdowns.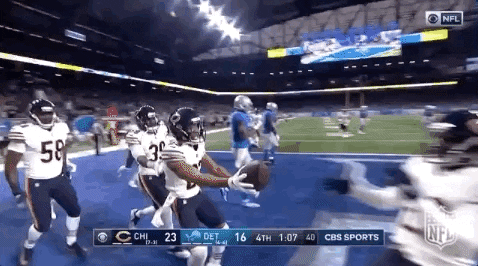 4. No More Cody Parkey
Fuck Cody Parkey.
5. Super Bowl Shuffle Part Deux
The Super Bowl Shuffle reboot filmed in Club Dub this year is going to be INSANE.
My Bears Season Predictions:
Offensive MVP: David Montgomery
Defensive MVP: Khalil Mack
Biggest Surprise: Bilal Nichols
Biggest Disappointment: Taylor Gabriel

And Fuck Cody Parkey with a Double Doink.